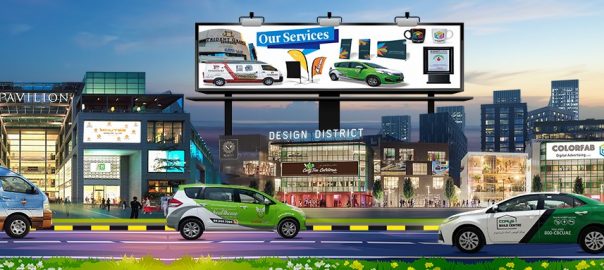 ColorFab is UAE based advertising company located in Dubai with experience in all areas of large format digital printing, vehicle branding and all kind signage to cater all your indoor and outdoor advertising needs.
We hold expertise in Digital Printing which is one of the most commonly used modes of outdoor advertising. ColorFab Digital Advertising is specialized in vehicle branding, digital printing, offset printing, exhibition stands, rollup stand, display stand, glass frosting and all kind of signage. We have an extensive amount of experience in signage fabrication, installation of all types of signage solutions. (Neon Sign, Acrylic Sign, 3D Sign, Stainless Steel Letter, Powder Coated Letters, safety signs and Traffic Sign etc.).
One stop solution to cater all your indoor and outdoor advertising needs.
Our services:
Vehicle graphics is the most eye catching and impressive advertising tool to promote awareness of your product and services and create a huge impact on thousands of your potential customers every day
Signage is an important way to advertise and promote your brand name, your products and your services. We fabricate all kind of signage like Neon Sign, Acrylic Sign, 3D Sign, Flex Sign, Stainless Steel Sign, Chanelume Sign, Safety Sign, Exhibition Stand.
Digital Printing is a popular advertising tool which is best to fulfill wide range advertising needs. We are dedicated to providing premium quality printing solutions and timely services at affordable rate. We offer large format printing of vinyl stickers, banners, flex, rollup banners, popup displays and canvas printing.
Glass Frosting vinyl film​ related products designed for glass partition privacy, safety, security and decorative purposes. Frosted window film is designed to be applied to your existing windows to give it a frosted glass appearance and is perfect for workplace privacy or great alternative when you don't want to permanently alter the glass. our premium quality frosted film allowing you to quickly and easily create an eye catching feature of your glass windows.
Offset Printing a wide range of print services including business cards printing, postcards printing, brochure printing, booklets printing, letterhead printing, greeting card printing, envelops printing, catalogues printing, flyers printing, NCR books printing, calendar printing and more!
Rollup banner is a cost effective promotional tool for small business and a great way to increase awareness of your brand, product or service at any event.